Archive for May, 2007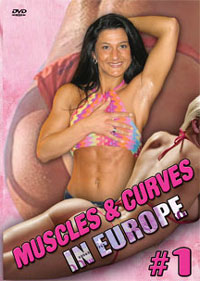 Muscles & Curves in Europe # 1 DVD is a unique fly on the wall look at muscular curvaceous women in Europe. It documents the many different, beautiful, sexy, fit and strong muscular women of bodybuilding.
The endless procession of female muscle flex and pose for the camera as it chronicles more women than you could possibly imagine in your wildest dreams.
You will see women working out to improptu posing to women centre stage of the final posedowns.
Mostly it is a candid, unstaged inside look at the women in the sport – at play – on the equipment and even some on stage! Mostly this is a pumping and posing for the camera feature like we have never offered before!
Meet the gorgeously muscled women of Europe in this DVD where some of the women seen are as follows:
Claudia Kinska
Juliette Bergmann
Maryse Manios
Marjolein Schilperoort
Maria Stigler
Lizzy Taylor
Nicole Kopf
Reggiani Da Silva
Susanne Malekpur
Sonja Schleis
Nicole Kopf
Merle Mohr
Maja Miokovic
Susana Müller
Nadine Khoualed
Cora Cablitz
Anke Luth
Anja Timmer
Natalya Lenartova
Susanne Niederhauser
Melanie Helfrich
Priscilla Fournie
Yolanda Mol
Fiona von Bachhaus
Susanne Bock
& MANY MORE!
The DVD is over an hour and half! Purchase it for only $39.95 at
PrimeCutsBodybuildingDVDs.com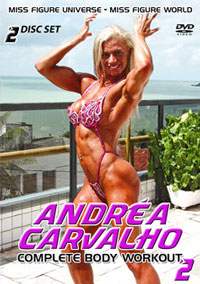 If you are a fan of the beautiful sexy female bodybuilder, Andrea Carvalho the Miss Figure Universe – Miss Figure World, you will love her new – Complete Body Workout 2 – : Superb 2 disc set.
This 2 disc set is Andrea Carvalho's second workout DVD. It features her complete body workout as well as her major contest victories at the 2005 NABBA Universe and 2005 Worlds. See stunning rooftop posing in sunny Brazil, 2006 NABBA Universe footage, and much more. This is a superb feature on the world's most outstanding Figure Bodybuilder. She is beautiful, ripped, muscular and perfectly proportioned for the Figure Class.
See all the exercises and the training intensity that made Andrea a World Champion. Shot in Brazil 2 weeks before the 2006 Universe event, her trainer Fernando "the beast" Marques drives her through gruelling workout sessions. Includes an extensive photo gallery with a wide range of photos both contest, workout and studio shots.
Disc #1 is mostly all workout and runs 120 minutes.
Disc #2 is workout, posing, contest footage and more. It runs 48 mins and includes a photo gallery.
The gym footage was shot by Nelson Santos in Sao Paulo, Brazil at First Personal Studio.
Andrea's first training DVD is not available from GMV but highlights of it were included in her extensive segment in GMV-632DVD, Women's Muscle Power #13. Click here for more details.
Running time: 168 mins
Find this video for just $34.95 only at PrimeCutsBodybuildingDVDs.com